AFT Maryland affiliates including members of the Baltimore Teachers Union and the City Union of Baltimore joined with AFT National and other labor unions and progressive organizations at a Sept. 18 rally on Capitol Hill to protect seniors' hard earned benefits. Speakers included Sen. Elizabeth Warren (D-MA), House Minority Leader Nancy Pelosi (D-CA) and Progressive Caucus Co-Chair Keith Ellison (D-MN).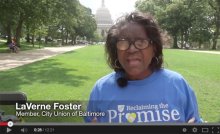 Click here for video highlights from the program, including thoughts from City Union of Baltimore member, LaVerne Foster and BTU member, Bertha McCloud.
The "Put Seniors First!" rally protested Republicans' plans to cut Social Security and Medicare benefits for senior citizens. The speakers reminded seniors that Rep. Paul Ryan (R-Wis.) and his conservative allies in Congress plan to raise the eligibility age and make immediate cuts to both programs. The alternative is the Democrats' "A Fair Shot for Everyone," a broad agenda that includes protecting Medicare.
"You work a lifetime and that means you're entitled to retire with dignity, and that means a strong Social Security system and strong Medicare." -Sen. Elizabeth Warren (D-Mass)