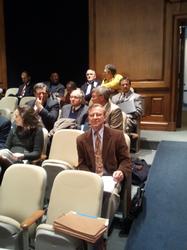 President George Myers
President George Myers of MPEC led a panel of AFT members who testified before the Maryland House Appropriations Committee on the Governor's  Budget Reconciliation and Financing Act (BRFA) bill. Several issues of interest to AFT are contained in that bill, including pensions, retirees' healthcare, and education funding.  AFT-MD is opposed to language in that bill that modifies the Thornton Foundation funding formula, which could result in the loss of $150 per pupil in the school system.
George Myers explained to the committee that the promise of a secured pension and equal healthcare to retirees that is afforded to active employees should be honored by the state.  He was followed by three retired AFT members who each told their personal stories of the hardship that would result from the proposed changes in the system.
On March 3rd, the BRFA moves to the Senate and Taxation Committee and AFT-MAryland will again be there to continue the fight for state employees and their rights.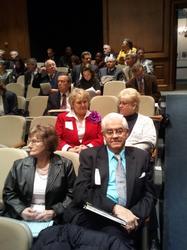 AFT local, MCEA members preparing to testify at House Appropriations Committee